Dissemination of the GOES Project at the seminar: "Local road infrastructure safety management in Europe: moving towards a harmonised approach"– Brussels, 22nd November 2011.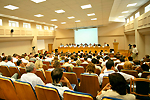 The Italian Association for Road Safety Professionals(AIPSS) has organized an event at the European Parliament, dedicated to the Transport Committee and other stakeholder to discuss the implementation of the Directive on road infrastructure safety.
Antonio Cancian, member of the European Parliament,  hosted the event and was in charge of the welcome, after that, Mr. Carlo Polidori, secretary  of AIPSS made the opening speech thanking and presenting the speakers:
Mr Al Joris, President of FEHRL (Forum of European National HighwayResearch Laboratories).
Mr Adewole Adesiyun, Deputy Secretary General of FEHRL and Coordinator of the Pilot4Safety Project.
Mr Xavier Cocu,  Belgian Road Research Centre, responsible of the training task in the Pilot4Safety Project.
Mr Veit Appelt, CEO of A+S (consulting firm), responsible of theWorkpackage 2 "Conditions of Transferability" in the FP7 Safer Brainresearch project.
Ms. Barbara Marinali, General Director of Road Infrastructures – ItalianMinistry of Infrastructures and Transport, (connected by video-conference).
Ms Maria Cristina Marolda, European Commission – DG MOVE, Research and Innovative Transport Systems unit.
Mr Stefano Campagnolo, European Commission – DGMove – Road safety unit.
After that, Mr. Polidori informed the audience about the GOES project and indicated them where the leaflets were: "we are proud to host the dissemination material of another road safety project named GOES, participated by the Valencian Region (Spain) and leaded by the Province ofAncona (Italy): you can find the leaflets on the table close to the entrance".
All the speeches and slides of the seminar as well as the leaflet of the GOES project are available and can be downloaded on the organisator's web site: www.aipss.it/eventi.html