Divulgazione del progetto GOES al seminario: "Local road infrastructure safety management in Europe: moving towards a harmonised approach"– Bruxelles, 22 Novembre 2011.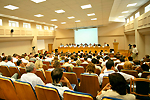 L'Associazione Italiana per la Sicurezza Stradale (AIPSS) ha promosso un evento al Parlamento Europeo, dedicato alla commissione trasporti e ad altri stakeholders per discutere l'implementazione delle direttive sulla Sicurezza delle infrastrutture stradali.
Antonio Cancian, membro del Parlamento Europeo, ha ospitato l'evento ed è stato responsabile del benvenuto, successivamente Carlo Polidori, segretario dell'AIPSS ha dato il via i lavori introducendo i relatori intervenuti:
Mr Al Joris, President of FEHRL (Forum of European National HighwayResearch Laboratories).
Mr Adewole Adesiyun, Deputy Secretary General of FEHRL and Coordinator of the Pilot4Safety Project.
Mr Xavier Cocu, Belgian Road Research Centre, responsible of the training task in the Pilot4Safety Project.
Mr Veit Appelt, CEO of A+S (consulting firm), responsible of theWorkpackage 2 "Conditions of Transferability" in the FP7 Safer Brainresearch project.
Ms. Barbara Marinali, General Director of Road Infrastructures – ItalianMinistry of Infrastructures and Transport, (connected by video-conference).
Ms Maria Cristina Marolda, European Commission – DG MOVE, Research and Innovative Transport Systems unit.
Mr Stefano Campagnolo, European Commission – DGMove – Road safety unit.
Successivamente Polidori ha presentato al pubblico il progetto GOES ed invitato gli spettatori a documentarsi anche attraverso le brochure e le pubblicazioni presenti in sala: "…Siamo orgogliosi di ospitare il material divulgativo di un altro progetto in ambito di sicurezza stradale chiamato GOES, realizzato dalla Regione di Valencia (Spagna) e dalla Provincia di Ancona in veste di capofila…".
Le brochure e le pubblicazioni del progetto GOES sono disponibili anche sul sito web dell'evento: www.aipss.it/eventi.html